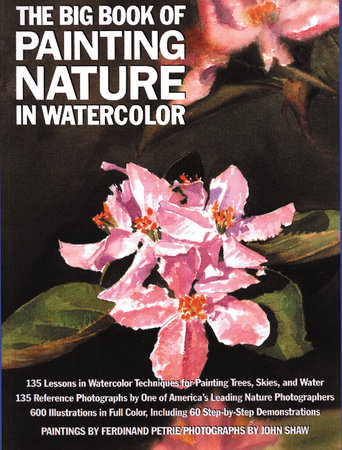 The Big Book of Painting Nature in Watercolor
Ferdinand Petrie; Photographs by John Shaw
About the Book
Depict the play of light on spring foliage silhouetted against a dark sky. Paint a vivid sunset over a lake. Capture the drama of waves surging toward the shore. The Big Book of Painting Nature in Watercolor provides 135 stimulating demonstrations in painting trees, skies, and water from beautiful photographs by one of the world's leading nature photographers.

This book will be invaluable to landscape artists. The 600 magnificent illustrations and engaging text cover the entire range of watercolor techniques and give the artist in-depth instruction in painting beautiful images of the natural world in all seasons, weather, geographical variety, and at every time of day. Many of the lessons are followed by assignments designed to help you apply what you have just learned to new situations.

The Big Book of Painting Nature in Watercolor is a must for everyone who wants to master the techniques for becoming a first-rate landscape painter.
Read more
Close