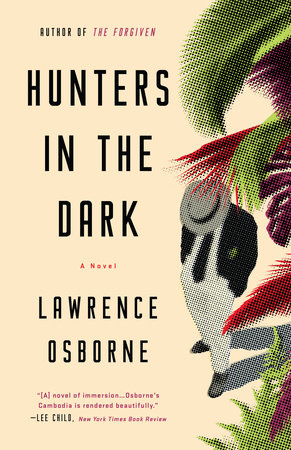 Read an Excerpt
Hunters in the Dark
A Novel
Lawrence Osborne
About the Book
From the novelist the New York Times compares to Paul Bowles, Evelyn Waugh and Ian McEwan, an evocative new work of literary suspense
 
Adrift in Cambodia and eager to side-step a life of quiet desperation as a small-town teacher, 28-year-old Englishman Robert Grieve decides to go missing. As he crosses the border from Thailand, he tests the threshold of a new future.

And on that first night, a small windfall precipitates a chain of events-- involving a bag of "jinxed" money, a suave American, a trunk full of heroin, a hustler taxi driver, and a rich doctor's daughter-- that changes Robert's life forever.

Hunters in the Dark is a sophisticated game of cat and mouse redolent of the nightmares of Patricia Highsmith, where identities are blurred, greed trumps kindness, and karma is ruthless. Filled with Hitchcockian twists and turns, suffused with the steamy heat and pervasive superstition of the Cambodian jungle, and unafraid to confront difficult questions about the machinations of fate, this is a masterful novel that confirms Lawrence Osborne's reputation as one of our finest contemporary writers.
Read more
Close