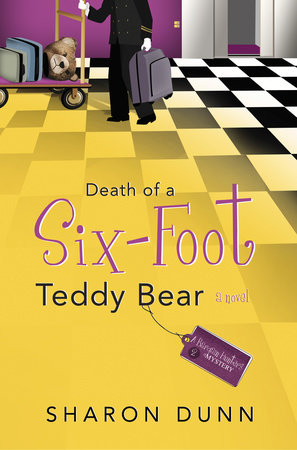 Read an Excerpt
Death of a Six-Foot Teddy Bear
Sharon Dunn
About the Book
Another murder mystery for the Bargain Hunters Network–only this time, one of them is a suspect!

Ginger and her husband, Earl, are in for a wild ride in Calamity, Nevada, along with the other BHN ladies–college student Kindra, mother-of-four Suzanne, and sassy senior Arleta. They came to town for the Invention Expo and some outlet shopping, but instead they endure lost luggage, broken air conditioning, and a long line of people angry at hotel owner Dustin Clydell. With the Invention Expo and the Squirrel Lovers' convention both in town, the Wind-Up Hotel has somehow overbooked.

Before the night is over, a man has been found dead in a teddy bear costume, the Invention Expo has been canceled, Binky the water-skiing squirrel has gone missing…and the authorities want to talk to one of the BHN ladies! What else could possibly go wrong?

Once again, the Bargain Hunters Network swings into sleuth mode to solve the murder–and this time, clear one of their own. Along the way, Ginger discovers something even better than a bargain.
Read more
Close