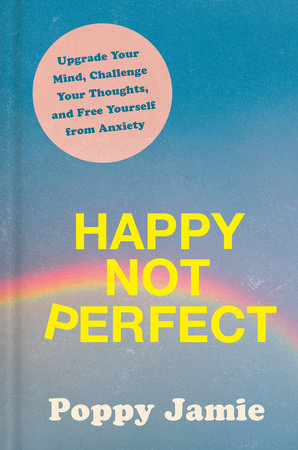 Read an Excerpt
Happy Not Perfect
Upgrade Your Mind, Challenge Your Thoughts, and Free Yourself from Anxiety
Poppy Jamie
About the Book
A clear path to overcoming uncertainty, perfectionism, and fears of rejection so you can finally find peace with the past and create a happier, healthier future

"Poppy's powerful approach will help you take control of your thoughts so they don't control you."—Lori Gottlieb, New York Times bestselling author of Maybe You Should Talk to Someone

Even before the pandemic brought on a crushing wave of stress, anxiety, isolation, life change, and financial struggle, there was already a growing mental health crisis. Due to a culture that encourages perfection, hustle, and fictional life/work balance, many are burning out. Behind her Instagram-projected image of "happy wellness founder," Poppy Jamie was also struggling mightily with perfectionism and life purpose.

She began working with mental health experts and researchers to find practical tools to overcome her inner critic and rewire her mind. She discovered that it is possible to create new neural pathways in your brain to break patterns of avoidance, challenge fears of not being good enough, and turn failure around by stretching the mind with new, healthier thought habits. The old wiring (and habits) that you've been stuck with can be written-over. You can actually upgrade your headspace to make curiosity, vulnerability, compassion, and emotional flexibility your default settings.

In the emphatic and trusted voice of Bridget Jones meets neuroscience, Poppy shares her Flexy Thoughts approach for changing how you react to emotional triggers and think of yourself while improving your mental and physical health, relationships, and vision of the future.

Our emotional resilience may continue to be tested, but the new perspectives and strategies in Happy Not Perfect will help us bring confidence, adaptability, and acceptance to whatever comes next.
Read more
Close