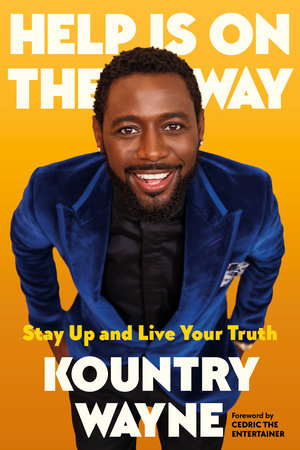 Read an Excerpt
Help Is on the Way
Stay Up and Live Your Truth
Kountry Wayne with Mim Eichler Rivas
About the Book
Find your hustle without losing your soul. Comedic superstar and internet entrepreneur Kountry Wayne made it to the top with a little bit of faith, a lot of perseverance, and a fearless commitment to his own success. Now he's here to help you do the same.

Kountry Wayne is on a mission help you get to that next level. Success is possible no matter where you start from. Coming up as a poor Black man in a small-minded Georgia town, Wayne found few legit options to achieve his dreams. For many years he resorted to running his own game, but thankfully friends and family (and one patient probation officer) convinced him that he had the talent for a different kind of hustle. Once he took a leap of faith and began posting short sketches based on his on-the-nose Southern Black truths, wildly funny observations, and inspirational guidance, he became an almost overnight hit.

Now he hopes to help others see that no matter where you started from or how stuck you feel right now, the possibilities for living a rich, full life are limitless. Help is on the way, with his unflinchingly honest, often outrageous, but always hopeful and hard-won lessons:
 
• Sometimes All You Have Is Your Pride: Often the only person who can push you forward is you.
• Live Your Truth: Don't hide from where you came from, celebrate it—this is what makes you an original.
• Don't Get Mad, Get Money: Ignore the people who want to tear you down and provide for the ones you love.
• Stay Up: Even when the worst thing happens, you have to find the strength to keep going.

Whether you are simply looking for a laugh to boost your spirit or some real guidance to help you in life, love, or money, Kountry Wayne has got you covered.
Read more
Close