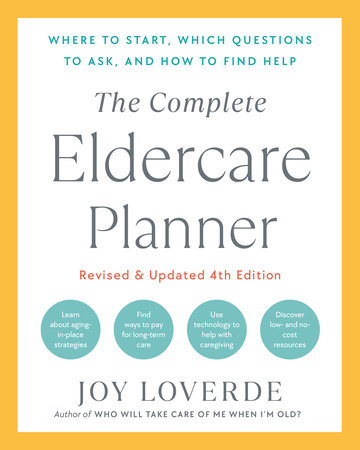 Read an Excerpt
The Complete Eldercare Planner, Revised and Updated 4th Edition
Where to Start, Which Questions to Ask, and How to Find Help
Joy Loverde
Paperback
Ebook
Audiobook Download
October 24, 2023 | ISBN 9780593823477
About the Book
Trusted for more than three decades by family caregivers and professionals alike, this comprehensive and reassuring caregiving guide offers the crucial information you need to look after your elders and plan for the future.

"The most complete resource between two covers."—Woman's Day
 
Being a caregiver for aging parents, close friends and family, and other elders in your life is an overwhelming experience, whether you are one who has stepped into this role without warning or one who is also contemplating their own care plan. Now in its fourth edition, The Complete Eldercare Planner will help you navigate today's complex caregiving landscape while addressing your unique needs.
 
Each chapter of this essential how-to guide shares easy-to-use action plans that will help you find your footing, indispensable checklists and worksheets to record important information, and a fully updated directory of low-cost and free resources. You'll learn how to:
 
• Communicate with your elders and earn their trust
• Find help during care-worker shortages
• Manage caregiving from a distance
• Protect your finances while paying for long-term care
• Deal with the emotions that come with caregiving
• Look for warning signs of dementia
• Ask the right questions in an eldercare emergency
 
With practical solutions that you can implement right away, The Complete Eldercare Planner will give caregiving strategies that help you move forward with confidence, make informed decisions, and feel prepared for any challenges.
Read more
Close