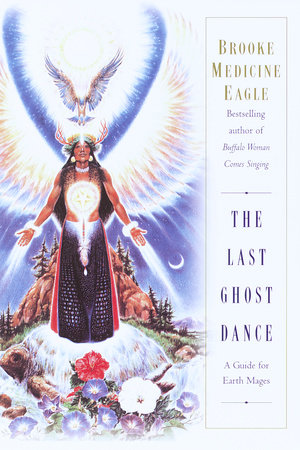 Read an Excerpt
The Last Ghost Dance
A Guide for Earth Mages
Brooke Medicine Eagle
About the Book
In the celebrated Buffalo Woman Comes Singing, Brooke Medicine Eagle revealed her extraordinary spiritual odyssey from her first guided steps on the medicine path to her ongoing work as one of the most respected Native American teachers of the modern era. Now she shares a groundbreaking approach to spiritual transformation--by revitalizing the powerful ancient ritual The Ghost Dance.

Four centuries ago, when European invaders were ruthlessly plundering indigenous cultures, a Paiute tribesman received a vision of hope and resurrection, given by Father Spirit, to help survivors of the onslaught create a beautiful new life in the face of defeat, broken dreams, and death. That vision was celebrated in an ecstatic ghost dance honoring those who had perished.

Brooke Medicine Eagle explains how and why we are profoundly connected to The Ghost Dance. As she herself becomes initiated into the "illusion of death" and the wisdom of "heart-centered ascension," she teaches us how to confront our deepest fears, overcome our resistance to change, and renew our lives. Through prayer, music, and dance, Medicine Eagle provides us with the tools to bring about the final fulfillment of this profound ritual--by living in harmony with earth's rhythms, practicing sustainable living, honoring and sharing with all our relations, and freeing ourselves from the burden of possessions and possessiveness.

Perceptive, practical, and luminous, The Last Ghost Dance is a call to action, a challenge to raise up from the ashes of our desecrated planet a world that welcomes the full flowering of the spirit--and a new age of abundance, love, and peace.
Read more
Close