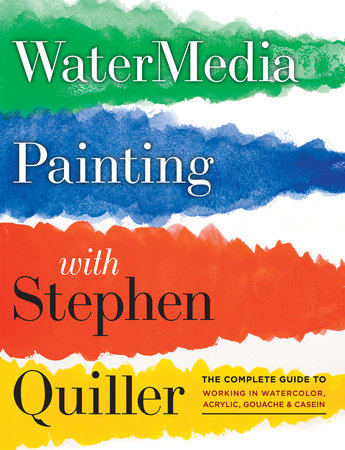 Watermedia Painting with Stephen Quiller
The Complete Guide to Working in Watercolor, Acrylics, Gouache, and Casein
Stephen Quiller
About the Book
Inspiring ideas from one of the world's great art teachers



• Top author—more than 100,000 books sold worldwide


• Solid instruction from a watermedia expert


• Tips and techniques for developing a personal style and vision



Join renowned artist Stephen Quiller, the creator of the famous Quiller Wheel, the Quiller Palette, and the Quiller lines of paints, on a journey of art discovery and exploration. Watermedia Painting with Stephen Quiller is an in-depth look at all the watermedia paints available to today's artists. Part One looks at watercolors, with illustrations of the visual characteristics of the mineral (sedimentary) and transparent (staining) and their effects with different paper surfaces. Part Two focuses on acrylics, gouache, and casein. In Part Three, Quiller shares his secrets for the most difficult aspect of painting—developing a personal style and vision. Packed with Quiller's thoughts and ideas on painting philosophy, the meditative and spiritual aspects of art, photographing art, travel, and building a studio, this is an inspiring guide to living a creative life and creating art.
Read more
Close