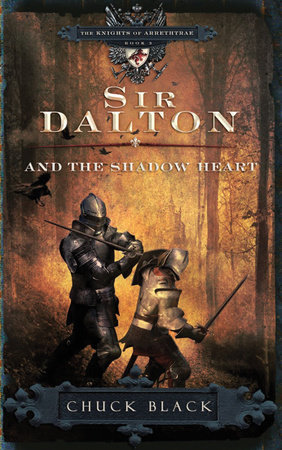 Read an Excerpt
Sir Dalton and the Shadow Heart
Chuck Black
About the Book
Sir Dalton, a knight in training, seems to have everything going for him. Young, well-liked, and a natural leader, he has earned the respect and admiration of his fellow knights, and especially the beautiful Lady Brynn.

But something is amiss at the training camp. Their new trainer is popular but lacks the passion to inspire them to true service to the King and the Prince. Besides this, the knights are too busy enjoying a season of good times to be concerned with a disturbing report that many of their fellow Knights have mysteriously vanished.

When Sir Dalton is sent on a mission, he encounters strange attacks, especially when he is alone. As his commitment wanes, the attacks grow in intensity until he is captured by Lord Drox, a massive Shadow Warrior. Bruised and beaten, Dalton refuses to submit to evil and initiates a daring escape with only one of two outcomes–life or death. But what will become of the hundreds of knights he'll leave behind? In a kingdom of peril, Dalton thinks he is on his own, but two faithful friends have not abandoned him, and neither has a strange old hermit who seems to know much about the Prince. But can Dalton face the evil Shadow Warrior again and survive?
Read more
Close