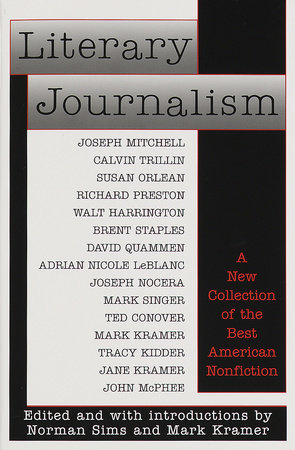 Literary Journalism
A New Collection of the Best American Nonfiction
Norman Sims; Mark Kramer
About the Book
Some of the best and most original prose in America today is being written by literary journalists. Memoirs and personal essays, profiles, science and nature reportage, travel writing -- literary journalists are working in all of these forms with artful styles and fresh approaches. In Literary Journalism, editors Norman Sims and Mark Kramer have collected the finest examples of literary journalism from both the masters of the genre who have been working for decades and the new voices freshly arrived on the national scene.

The fifteen essays gathered here include:
-- John McPhee's account of the battle between army engineers and the lower Mississippi River
-- Susan Orlean's brilliant portrait of the private, imaginative world of a ten-year-old boy
-- Tracy Kidder's moving description of life in a nursing home
-- Ted Conover's wild journey in an African truck convoy while investigating the spread of AIDS
-- Richard Preston's bright piece about two shy Russian mathematicians who live in Manhattan and search for order in a random universe
-- Joseph Mitchell's classic essay on the rivermen of Edgewater, New Jersey
-- And nine more fascinating pieces of the nation's best new writing

In the last decade this unique form of writing has grown exuberantly -- and now, in Literary Journalism, we celebrate fifteen of our most dazzling writers as they work with great vitality and astonishing variety.
Read more
Close