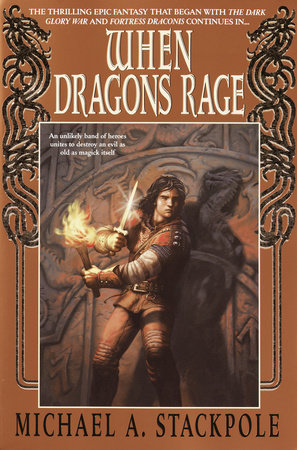 Read an Excerpt
When Dragons Rage
Michael A. Stackpole
About the Book
Michael A. Stackpole, New York Times bestselling author and master of epic fantasy, continues his unforgettable chronicle of a world divided by war, betrayal, desire, and two rival magicks. . . .

As her merciless armies sweep from the north, the tyrant Chytrine pursues her quest to become empress of the world in a brutal campaign of unspeakable bloodshed and unholy sorcery. While cities and kingdoms topple, her agents, both living and dead, search for fragments of the shattered DragonCrown—which, when reassembled, will make her unstoppable.

Opposing Chytrine is the beautiful and determined Alexia, Princess of Okrannel. As she struggles to save the life of Kedyn's Crow, a mysterious human warrior accused of treachery, she gathers around her an alliance of unlikely heroes, including Resolute, an exiled Vorquelf out for vengeance; Kerrigan Reese, a mage with uncertain potential; and last but not least, young Will, an orphan thief from the slums of Yslin, who may be the fulfillment of an ancient prophecy—or its innocent victim. Alexia and her friends will need all their courage and magick, their only advantage the secret possession of a vital fragment of the DragonCrown. But when Chytrine's terrifying horde of cruel warriors, voracious minions, and remorseless undead slaves join the battle against them, even courage and magick may not be enough to stem the tide of ultimate darkness.
Read more
Close