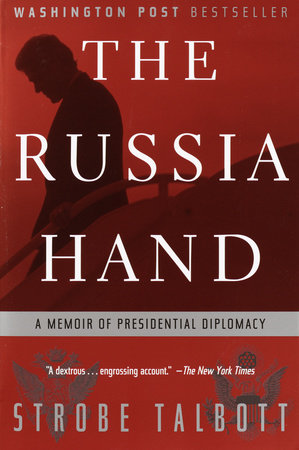 Read an Excerpt
The Russia Hand
A Memoir of Presidential Diplomacy
Strobe Talbott
About the Book
NATIONAL BESTSELLER • A NEW YORK TIMES NOTABLE BOOK • "A rich and revealing account of the turbulent relationship between the U.S. and Russia during the first post-Cold War years. . . . Essential for any understanding of this critical and even dangerous period."—Elizabeth Drew

"A fascinating memoir of a weirdly unpredictable world."—The New York Review of Books

In the eight years Bill Clinton was president, as Russia lurched from crisis to crisis, each one more horrifying than the last, Clinton and his foreign-policy team found they faced no greater task than helping to keep Russia stable and at peace with herself and her neighbors. Strobe Talbott's mesmerizing account of this struggle reveals what a close-run thing this was, and how much the relationship between George W. Bush and Vladimir Putin has been defined by the work of Bill Clinton. 
 
Written with a novelistic richness and energy, The Russia Hand is the first great book about war and peace in the post-Cold War world. It is also the one book anyone needs to understand Russia's fateful transformation and future possibilities after ten years as a democracy.
Read more
Close