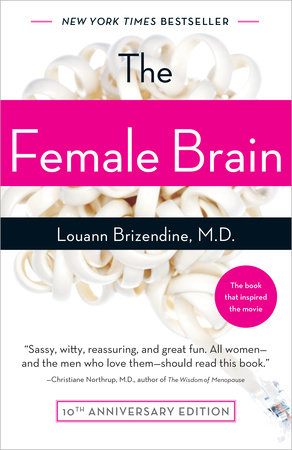 Read an Excerpt
The Female Brain
Louann Brizendine, MD
About the Book
Since Dr. Brizendine wrote The Female Brain ten years ago, the response has been overwhelming. This New York Times bestseller has been translated into more than thirty languages, has sold nearly a million copies between editions, and has most recently inspired a romantic comedy starring Whitney Cummings and Sofia Vergara. And its profound scientific understanding of the nature and experience of the female brain continues to guide women as they pass through life stages, to help men better understand the girls and women in their lives, and to illuminate the delicate emotional machinery of a love relationship.



Every brain begins as a female brain. It only becomes male eight weeks after conception, when excess testosterone shrinks the communications center, reduces the hearing cortex, and makes the part of the brain that processes sex twice as large.

Louann Brizendine, M.D. is a pioneering neuropsychiatrist who brings together the latest findings to show how the unique structure of the female brain determines how women think, what they value, how they communicate, and whom they'll love. Brizendine reveals the neurological explanations behind why

• A woman remembers fights that a man insists never happened

• A teen girl is so obsessed with her looks and talking on the phone

• Thoughts about sex enter a woman's brain once every couple of days but enter a man's brain about once every minute

• A woman knows what people are feeling, while a man can't spot an emotion unless somebody cries or threatens bodily harm

• A woman over 50 is more likely to initiate divorce than a man

Women will come away from this book knowing that they have a lean, mean communicating machine. Men will develop a serious case of brain envy.
Read more
Close