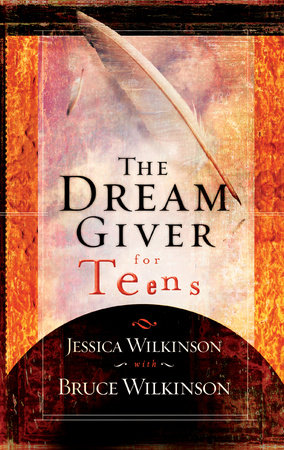 The Dream Giver for Teens
Jessica Wilkinson
About the Book
It's time to begin the journey of your life. Let Bruce and Jessica Wilkinson help you find your dream and pursue it on a quest to discover the life you've always dreamed of.

The moment happens to all of us—the moment when we realize that we don't live in a world where everyone lives "happily ever after." When that happens, most of us stop chasing our dreams and instead begin trying to forget them. Deep down, though, we still hold on to the hope that just maybe the voice inside telling us "there is more to life than this" will turn out to be right.

And it is right. There is more. The secret lies deep within your heart. It's trying to show you a life that can only happen when you chase your wildest dreams.

ARE YOU BRAVE ENOUGH TO TAKE A LOOK?

Story Behind the Book

In this series of specially focused books, the Wilkinsons take teaching to a new level by introducing a modern-day parable specific to each title; The Dream Giver for Parents, The Dream Giver for Couples, and The Dream Giver for Teens. Each chapter with teaching and application is matched to the parable so that we understand God's desire for us to pursue the dream he gave us.
Read more
Close