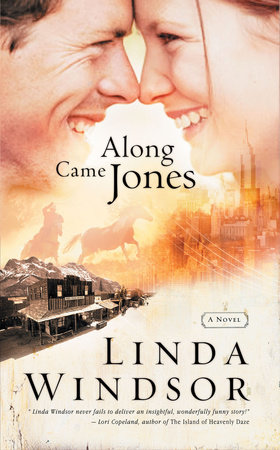 Along Came Jones
Linda Windsor
About the Book
Sparks fly in a Montana ghost town when Big Apple meets Big Sky in this Christian romance.  

Framed for a crime she didn't commit, fleeing from the law and a crime syndicate, New Yorker Deanna Manetti is so lost in the Montana wilderness that not even God can find her—or so she thinks. Just when it can't get any worse, she's run off the road by a wild mustang, rescued by a cowboy packing iron, and carried off on horseback to the remote ghost town he calls a ranch. Deanna can't help but wonder if God has abandoned her—or is He just giving her a place to lay low until she can figure a way out of the mess she's in? The more Deanna gets to know her handsome host, the more she suspects she's jumped out of the frying pan and into the fire—a blaze that may consume her heart and soul.

Then, along came Jones. Shep Jones is mildly amused at this city slicker's attitude. She ought to be happy he's willing to fix her fancy sports car without calling the insurance company. Before he knows it, she's moved in 'til the work gets done, but instinct tells the ex-U.S. Marshal he's not getting all of the story. Shep aims to find out what—or who—she's running from. Can he turn away someone as lost and wonded as he was when he sought refuge in the wilderness? Or will he offer Deanna the same grace God afforded him?

Love and laughter blossom at Buffalo Butte until the past catches up with the unlikely pair, placing their love, their faith, and their lives in jeopardy.
Read more
Close