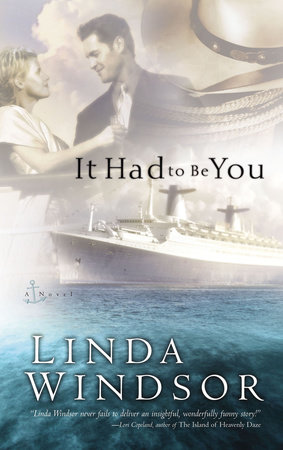 It Had to Be You
Linda Windsor
About the Book
Trust is not high on straight-talking rancher Dan Jarrett's list. He doesn't believe there are many people worthy of it. Case-in-point: his new stepfather. His widowed mother says it was love at first sight, but Dan is convinced the man is a con artist spending his mother's nest egg. And the only reason Dan's going on the family holiday cruise is to gain time to prove his suspicions. After losing both of her parents to cancer, E.R. nurse Sunny Elders cherishes any time she can spend with the loved ones she has left-her sister's family. Relaxing together on a cruise filled with love and laughter sounds like the perfect prescription for healing. And Sunny's unsinkable spirit and her maddening penchant for zany disasters provide an ample dose of both.

Collision Course. Troubles Waters Ahead!

Rancher Dan Jarrett, a true stickler for tradition, doesn't believe in the love-at-first sight bug that bit his widowed mom. In fact, he's sure the man she met and married on a seniors' cruise is a fraud, out to break her bankbook and her heart. Dan's mission? Endure a family holiday cruise till he gets enough proof to expose his stepfather for the scoundrel he is. But will his plans go aground when he bumps headlong into a "walking accident-waiting-to-happen" with an infectious smile?

Nurse Fix-It to the Rescue!

Sunny Elders is determined. True, being paired with Dan Jarrett-time after time after time-might result in disaster, but it's no coincidnece. The recent loss of her parents and her nurse's training make it impossible to ignore the obvious: This bull-headed cowpoke and his folks need help. Enter Sunny, a woman with a mission. But can she set Dan's Stetson on straight without tripping over her heart?

One thing is certain: Before this hilarious high-sea adventure is over, these two stubborn hearts will hit the unfamiliar waters of trust - trust in each other and in the One who orders our steps, who knows better than we ever could exactly what - and who - we need to be whole.
Read more
Close