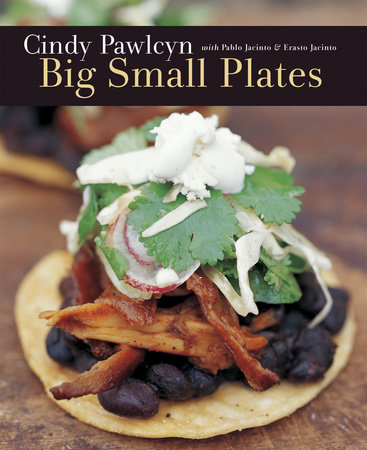 Big Small Plates
[A Cookbook]
Cindy Pawlcyn
About the Book
Fans of Cindy Pawlcyn'¬?s Mustards Grill have been making meals out of her sampler-size starters for years. In BIG SMALL PLATES, Cindy brings home the biggest trend in eating out, with generously scaled recipes that promise less fuss and more flavors than traditional appetizers. The wide-ranging collection of universally appealing recipes spans soups, finger foods, salads, scoopables, and even sweets designed to satisfy big appetites as well as grazers. An alternative to conventional, varietyless main-course cooking, Cindy's small plate recipes deliver the inspiration and reliability that make this new way of eating-and entertaining-practical at home.
A cookbook of 150 sampler-size recipes from Mustards Grill, Cindy's Backstreet Kitchen, and Pawlcyn's home repertoire, in her signature all-American style with Californian and global influences.
Includes 150 gorgeous food, ingredient, and location photos.
Pawlcyn's previous book MUSTARDS has sold more than 60,000 copies.
MUSTARDS won the James Beard award for Best American Cookbook in 2002 and was nominated for the IACP Cookbook of the Year Award.
Reviews
"Cindy Pawlcyn is all about big fun and big flavors."-San Jose Mercury News
"Cindy Pawlcyn's rollicking Big Small Plates has a cornucopia of brightly flavored small dishes." -Boston Globe
"As a basic guide to the wonderful fare served at Mustards and Cindy's Backstreet Kitchen, Big Small Plates has more than enough to go around." -Wine News
"The kind of cookbook I just can't resist." -Oakland Tribune
"[A]n ample selection of some of the more delicious tidbits you'll ever taste." -Sacramento Bee
"Pawlcyn's new book focuses on small plates-tapas-in a grand way." -Baltimore Sun
"Buy this book because the recipes are flavorful, diverse, and conducive to infinite applications." -ChefTalk.com
"The Napa Valley super chef and entrepreneur's praiseworthy-and successful-attempt to bring the small-plates trend into the home kitchen."-San Francisco Chronicle"Anyone looking for first courses or cocktail party food recipes will find no lack of inspiration here."-Booklist"An enormously appealing book full of heart, and food that's refreshingly real and often adventurous."-Portland Oregonian
Read more
Close