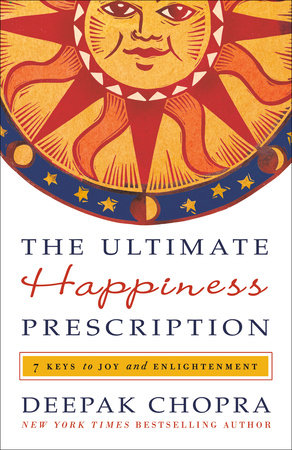 Read an Excerpt
The Ultimate Happiness Prescription
7 Keys to Joy and Enlightenment
Deepak Chopra
Paperback
Ebook
Audiobook Download
November 17, 2009 | ISBN 9780307704566
About the Book
New York Times bestselling author Deepak Chopra shares the spiritual practices that will help us to uncover the true secrets of joy in the most difficult times.

Happiness is something everyone desires. Yet how to find happiness—or even if we deserve to—remains a mystery.
 
The goal of life is the expansion of happiness, but today's society reinforces the belief that fulfillment comes from achieving success, wealth, and good relationships. Chopra tells us that the opposite is true: All success in life is the by-product of happiness, not the cause.
 
In this book, Chopra shows us seven keys for a life based on a sense of your "true self" lying beyond the ebb and flow of daily living. Simple daily exercises can lead to eliminating the root causes of unhappiness and help you to:
 
• Recognize real happiness and not settle for less
• Find true self-esteem, which doesn't depend on anything outside you
• Return to the state of joy, peace, and spontaneous fulfillment that is your natural birthright
• Focus on the present and learn to live it fully
• Experience enlightenment
 
After all avenues to happiness have been explored, only one path is left: the journey to enlightenment. In The Ultimate Happiness Prescription, we are taken on an inspiring journey to learn the secrets for living mindfully and with effortless spontaneity for the true self, the only place untouched by trouble and misfortune.
Read more
Close