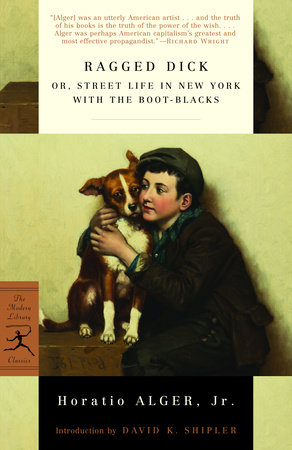 Read an Excerpt
Ragged Dick
or, Street Life in New York with the Boot-Blacks
Horatio Alger, Jr.
About the Book
"[Alger] was an utterly American artist . . . and the truth of his books is the truth of the power of the wish. . . . Alger was perhaps American capitalism's greatest and most effective propagandist."–Richard Wright
Introduction by David K. Shipler
Written to inspire schoolboys to strive for "honesty, industry, frugality, and a worthy ambition," the novels of Horatio Alger (1832-99) are infused with great humanity, broad humor, and a surprisingly sophisticated view of Gilded Age propriety.
Central to Alger's philosophy is the notion that heroes like Ragged Dick, a poor boot-black, manage to get ahead by dint of hard work, resourcefulness, luck, pluck, and fair play.
Alger's upwardly mobile heroes have become paragons of middle-class comfort and moral standing, and their journeys from rags to respectability have long been viewed as the very embodiment of the American Dream.
In this Modern Library Paperback Classic, the text of Ragged Dick is set from the first American book edition of 1868. Includes a Modern Library Reading Group Guide.
Read more
Close