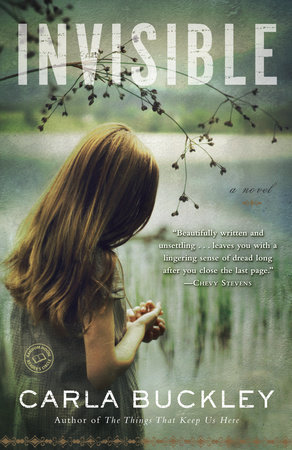 Read an Excerpt
Invisible
A Novel
Carla Buckley
About the Book
Perfect for fans of Jodi Picoult, Carla Buckley's Invisible is a stunning novel of redemption, regret, and the complex ties of familial love.
 
Growing up, Dana Carlson and her older sister, Julie, are inseparable—Dana the impulsive one, Julie calmer and more nurturing. But then a devastating secret compels Dana to flee from home, not to see or speak to her sister for sixteen years.
 
When she receives the news that Julie is seriously ill, Dana knows that she must return to their hometown of Black Bear, Minnesota, to try and save her sister. Yet she arrives too late, only to discover that Black Bear has changed, and so have the people in it.
 
Julie has left behind a shattered teenage daughter, Peyton, and a mystery—what killed Julie may be killing others, too. Why is no one talking about it? Dana struggles to uncover the truth, but no one wants to hear it, including Peyton, who can't forgive her aunt's years-long absence. Dana had left to protect her own secrets, but Black Bear has a secret of its own—one that could tear apart Dana's life, her family, and the whole town.

"Beautifully written and unsettling . . . leaves you with a lingering sense of dread long after you close the last page."—Chevy Stevens

Look for special features inside. Join the Circle for author chats and more.
Read more
Close