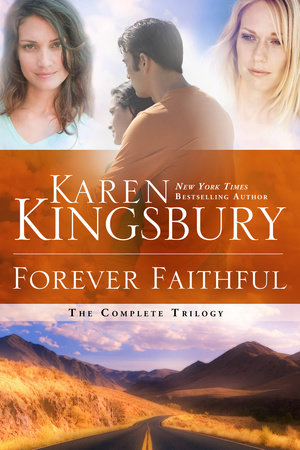 Forever Faithful
The Complete Trilogy
Karen Kingsbury
About the Book
The entire best-selling Forever Faithful trilogy, now available in one volume:

Waiting for Morning
   A drunk driver...a deadly accident...a dream destroyed.  When Hannah Ryan loses her husband and oldest daughter to a drunk driver, she is consumed with hate and revenge.  Ultimately, it is a kind prosecutor, a wise widow, and her husband's dying words that bring her the peace that will set her free and let her live again.

A Moment of Weakness
   When childhood friends Jade and Tanner reunite as adults, they share their hearts, souls, and dreams of forever--until a fateful decision tears them apart.  Now, nearly a decade later, Jade's unfaithful husband wants to destroy her in a custody battle that is about to send shock waves across the United States.  Only one man can help Jade in her darkest hour.  And only one old woman knows the truth that can set them all free.

Halfway to Forever
   Matt and Hannah...Jade and Tanner--after already surviving much, these couples must now face the greatest struggles of their lives: parental losses and life-threatening illness threaten to derail their faith and sideline their futures.  Can Hannah survive the loss of an adopted daughter?  Will Tanner come through decades of lonliness only to face losing Jade one final time?
Read more
Close