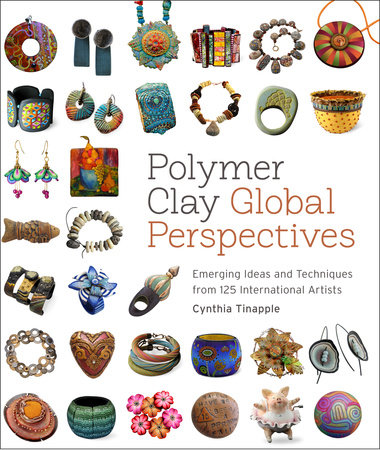 Polymer Clay Global Perspectives
Emerging Ideas and Techniques from 125 International Artists
Cynthia Tinapple
About the Book
Explore the World--in Polymer Clay!

Polymer artists are connected like never before. As the acclaimed curator of the popular blog PolymerClayDaily.com, Cynthia Tinapple brings together 115 diverse artists from around the world to showcase the work of this new international community. Polymer Clay Global Perspectives invites you to explore the trends and cutting-edge styles that are influencing the future of this medium.  In this masterful collection, you'll find:

·      Tips to create meaningful art that reflects your personality and vision
·      Behind-the-scenes profiles of 13 innovative artists in their studios
·      Step-by-step projects by contributors who share their signature methods, such as mokume gane, extruded canes, and adapted glass-blowing techniques
·      Galleries showcasing the best of the best polymer work in jewelry, miniatures, sculpture, and much more

With artists including Kim Korringa, Shay Aaron, and Fabiola Perez offering their expertise, you'll find endless inspiration to take your art to the next level. Begin your own journey through the new landscape of contemporary polymer. A world of possibilities awaits.
Read more
Close