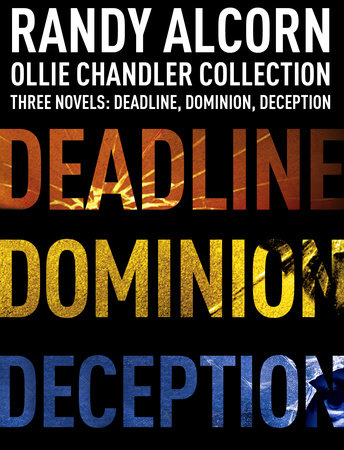 Ollie Chandler Collection
Three Novels: Deadline, Dominion, Deception
Randy Alcorn
About the Book
Three suspense detective novels for the price of one in this eBook-exclusive omnibus.

Ollie Chandler is a brilliant and quick-witted homicide detective who lives by Ollies' First Law: "Things are not what they appear." These best-selling novels offer readers a compelling, intriguing story of Ollie Chandler combined with other favorite characters. Deadline, Randy Alcorn's first novel, stayed on the bestsellers list for thirty-six months. Dominion is a dramatic story of spiritual searching, racial reconciliation, and hope. Deception responds to readers' demand for more of his believable, compelling fiction. Readers will gain a greater understanding of heaven while recognizing a new idea of why God allows suffering.

 

Deadline

Involved in a tragic accident under suspicious circumstances, award-winning journalist Jake Woods teams with detective Ollie Chandler to uncover the truth. This alluring e-omnibus of the Randy Alcorn bestsellers finds Jake drawing upon all his resources in an ever-intensifying, dangerous murder investigation. Unaware of the imminent threat to his own life, Jake struggles for answers to the mystery at hand and is plunged into a deeper search for the meaning of his own existence. Deadline is a dramatic and vivid novel of substance, filled with hope and perspective for every reader who longs to feel purpose in life.

 

Dominion

When two senseless killings hit close to home, columnist Clarence Abernathy seeks revenge for the murders--and, ultimately, answers to his own struggles regarding race and faith. After being dragged into the world of inner-city gangs and racial conflict, Clarence is encouraged by fellow columnist Jake Woods to forge an unlikely partnership with a redneck homicide detective. Soon the two find themselves facing dark forces, while unseen eyes watch from above. This re-release of Randy Alcorn's powerful bestseller spins off from Deadline and offers a fascinating glimpse inside heaven. Filled with insight--and with characters so real you'll never forget them--Dominion is a dramatic story of spiritual searching, racial reconciliation, and hope.

 

Deception

Homicide detective Ollie Chandler has seen it all. Done more than he cares to admit. But when he's called to investigate the murder of a Portland State University professor, he finds himself going places he's never gone before. Places he never wanted to go. Because all the evidence is pointing to one, horrific conclusion: The murderer is someone in his own department. That's not the worst of it, though. Ollie has nagging doubts...about himself. Where was he during the time of the murder? Joined by journalist Clarence Abernathy and their friend Jake Woods, Ollie pushes the investigation forward. Soon all three are drawn deep into corruption and political tensions that threaten to destroy them--and anyone who tries to help. But they're in too deep to quit. They've got no choice. They have to follow the evidence to the truth...No matter how ugly--or dangerous--it gets.


Read more
Close