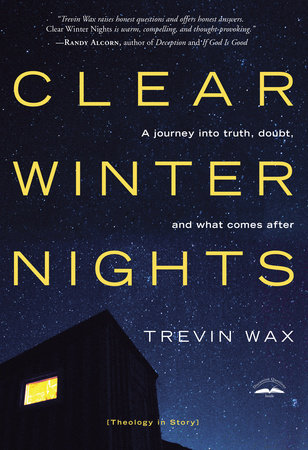 Read an Excerpt
Clear Winter Nights
A Journey into Truth, Doubt, and What Comes After
Trevin Wax
About the Book
When his life comes apart, will the center hold?
 
Chris Walker has everything. A career, a beautiful fiancée, a promising ministry opportunity, and a faith instilled in him from a young age. But when a revelation about his family comes to light at his grandmother's funeral, Chris finds himself facing questions he didn't even know he had about…well, everything.
 
Fighting a battle within and without from those that don't understand his sudden doubts, Chris seeks refuge in a weekend with his grandfather to ask the tough questions and sort through the issues where faith meets life and disillusionment collides with truth.
 
For those searching for the historic Christian faith that is relevant to life today, or for those who believe that a completely new faith is called for, Clear Winter Nights is a stirring story about faith, forgiveness, and the distinctiveness of Christianity. Through a powerful narrative and engaging dialogue, Trevin Wax shows the relevance of unchanging truth in an ever-changing world.
Read more
Close