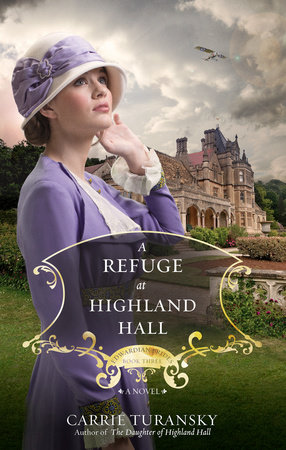 A Refuge at Highland Hall
A Novel
Carrie Turansky
About the Book
The Great War shakes the world of a spirited young woman and the brave British pilot she loves, taking her from London to her family's magnificent country estate, and sending him into the war-torn skies over France.
 
Penny Ramsey has always considered Highland Hall her home, but when Britain becomes involved in World War One she travels to London to assist her sister Kate with the eight orphan children she and her husband Jon have taken into their home. Doing her part for the war effort takes priority over Penny's dreams of romance until she meets Alex Goodwin, a Royal Naval Air Service pilot in training.
 
Alex is determined to prove his worth and do his part to defend his country. Knowing he is heading off for the dangerous assignment of chasing Zeppelins across the front line in France, he feels it's unwise to form any romantic attachments. But he can't help admiring the pretty, warmhearted Penny and wondering what it would be like to find her waiting when he returns home from the war. 
 
As Penny writes to Alex, their friendship blossoms, and she becomes his tie to home and normalcy as he faces the hardships war. But being an RNAS pilot means confronting the enemy, and the fallout from those experiences push Alex beyond Penny's reach. Can God mend the brokenness left by the losses of war? Will faith and forgiveness bring them together again?
Read more
Close