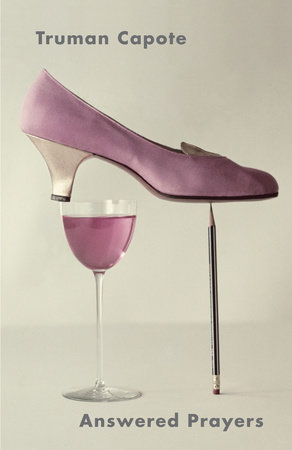 Read an Excerpt
Answered Prayers
Truman Capote
About the Book
Truman Capote's unfinished final novel is an unsparing tell-all of New York high society that sent a seismic shock through the public and Capote's own social circle.  

"Prose that makes the heart sing and the narrative fly."—The New York Times Book Review

Catapulted from a childhood spent in a Missouri orphanage to the dizzying peaks of New York high society, the destitute and debauched writer P. B. Jones spends his days moving between the paltry cell of a Manhattan Y.M.C.A. and the opulent playgrounds of the metropolitan elite.  

Though Jones struggles to make ends meet, his effortless associations with the moneyed and powerful thrust him into sumptuous business offices, bohemian bars inhabited by the likes of Jean-Paul Sartre and Simone de Beauvoir, and the trendiest restaurants, where the tables are arranged by the social status of their occupants. Jones's days and nights are a riptide of dysfunctional dinner parties and hobnobbing with drunken heiresses, accompanied by a carousel of legendary female characters who populated Capote's own life, among them Colette, Jackie Kennedy, and the Duchess of Windsor. Indeed, Answered Prayers teems with the real-life secrets and confessions of Capote's most trusted friends, and these pages, when first published as a magazine serial, astounded readers but betrayed his confidantes, banishing him from the exclusive circle that was once his.   

Unrestrained and irreverent, Answered Prayers renders a carnival of wealth and influence so unthinkable that it satirizes itself—with the inimitable wit of one of the twentieth century's most celebrated writers.
Read more
Close