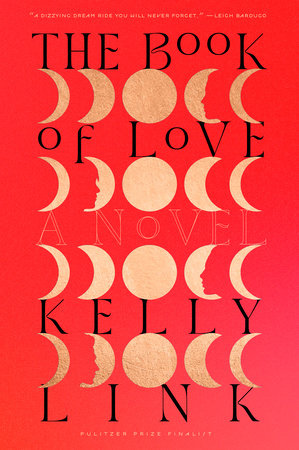 The Book of Love
A Novel
Kelly Link
About the Book
In the long-awaited debut novel from bestselling author and Pulitzer Prize finalist Kelly Link, three teenagers become pawns in a supernatural power struggle.

"A dizzying dream ride you will never forget."—Leigh Bardugo
"An incredible achievement."—Cassandra Clare
"Kelly Link is our greatest living fabulist."—Carmen Maria Machado

The Book of Love showcases Kelly Link at the height of her powers, channeling potent magic and attuned to all varieties of love—from friendship to romance to abiding family ties—with her trademark compassion, wit, and literary derring-do. Readers will find joy (and a little terror) and an affirmation that love goes on, even when we cannot.

Late one night, Laura, Daniel, and Mo find themselves beneath the fluorescent lights of a high school classroom, almost a year after disappearing from their hometown, the small seaside community of Lovesend, Massachusetts, having long been presumed dead. Which, in fact, they are.

With them in the room is their previously unremarkable high school music teacher, who seems to know something about their disappearance—and what has brought them back again. Desperate to reclaim their lives, the three agree to the terms of the bargain their music teacher proposes. They will be given a series of magical tasks; while they undertake them, they may return to their families and friends, but they can tell no one where they've been. In the end, there will be winners and there will be losers.

But their resurrection has attracted the notice of other supernatural figures, all with their own agendas. As Laura, Daniel, and Mo grapple with the pieces of the lives they left behind, and Laura's sister, Susannah, attempts to reconcile what she remembers with what she fears, these mysterious others begin to arrive, engulfing their community in danger and chaos, and it becomes imperative that the teens solve the mystery of their deaths to avert a looming disaster.

Welcome to Kelly Link's incomparable Lovesend, where you'll encounter love and loss, laughter and dread, magic and karaoke, and some really good pizza.
Read more
Close