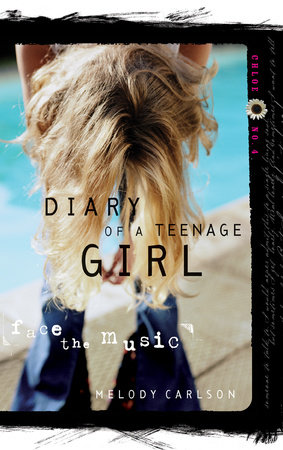 Face the Music
Chloe: Book 4
Melody Carlson
About the Book
Redemption has made it to the bestseller chart, but what Chloe and the girls need most is some downtime to sift through the usual high school stress with grades, friends, guys, and the prom. Chloe struggles to recover from a serious crush on the band leader of Iron Cross. Then, just as an unexpected romance catches Redemption by surprise, Caitlin O'Conner - whose relationship with Josh is taking on a new dimension - joins the tour as their chaperone. Chloe's wild ride only speeds up, and this one-of-a-kind musician faces the fact that life may never be normal again.

Monday, June 13

prepare my heart for the storm / keep me safe, keep me warm / heap those bags, around my heart / build that wall, before it starts / pile them up, and pile them high / keep me safe, keep me dry / before the waves come rushing in / Lord, please, make me strong again

Chloe, Allie, and Laura split their time between "normal" high school life—going to classes, attending prom—and touring as Redemption, a rising new Christian band. When Allie's mom needs to bow out of their summer tour, Caitlin O'Conner fills in as chaperone.

And a good thing, too. Caitlin is the perfect person to have around as Chloe's feelings for the handsome lead singer of Iron Cross continue to grow. Amid a grueling concert schedule, Chloe realizes that attraction is a powerful and even dangerous force. But when death hits close to home, Chloe's heart is slammed by another emotion: guilt.

In good times and bad, with blessing and temptation, and especially when things spin out of control, trusting God is the challenge. 'Cause there comes a time when we all have to face the music.

Story Behind the Book

Chloe and her band, Redemption, are being given amazing opportunities, but with it comes the responsibility of serving God wholeheartedly. In this book, perhaps more than the others in the Diary series, Chloe begins to grasp what sort of ministry (not just a music career) that God is calling her to. As an author, I travel a similar road. I am constantly weighing my "art/craft" against what God is pressing on my heart to write, while striving to be authentic and uncompromising.
Read more
Close