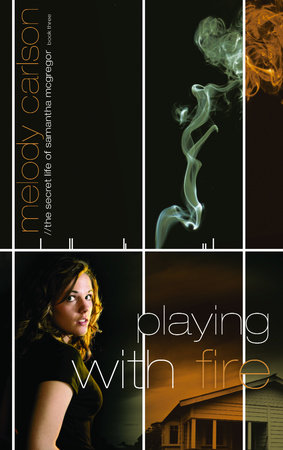 Read an Excerpt
Playing with Fire
Melody Carlson
About the Book
If your vision led you straight into the fire,
would you follow it anyway?

Samantha's brother, Zach, is finally home after a ninety-day rehab for his meth addiction, and life seems to be getting back to normal. That is, until Sam starts having dreams about dangerous situations involving drugs. But her visions are so vague that she doesn't know who needs help. Of course she's worried about Zach staying clean, especially since he's hanging with the wrong crowd. But the whole school seems to be buzzing about drugs, and Sam doesn't know who's using and who's not. What is wrong with these people anyway?

Then Sam has a vision of a burning cabin, and this time someone has been shot. Convinced that Zach is involved somehow, Sam chooses to leave Detective Ebony Hamilton out of the loop. If Zach really is involved, this will land him in jail for sure! But her own investigation is getting too hot to handle, and Sam must decide whether to risk getting Zach in trouble with the law– or ultimately risk his life.
Read more
Close