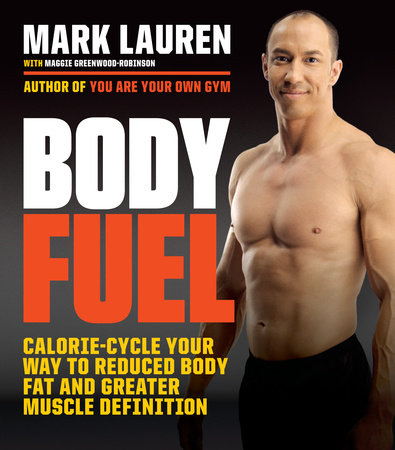 Read an Excerpt
Body Fuel
Calorie-Cycle Your Way to Reduced Body Fat and Greater Muscle Definition
Mark Lauren with Maggie Greenwood-Robinson
About the Book
A no-frills, fail-safe, easy-to-follow "calorie-cycling" eating plan designed to jumpstart your metabolism, stimulate weight loss, define your body, and keep you fit for life—from the bestselling author of You Are Your Own Gym
 
FUEL UP, BURN FAT
 
International fitness phenomenon and U.S. Special Operations Forces trainer Mark Lauren has worked with everyone from soldiers to civilians who want to get into top shape fast—without pricey equipment or gym memberships. Now he turns that same disciplined focus and straightforward advice to using the right foods to fuel your body.
 
In Body Fuel, Lauren reveals for the first time his cutting-edge concept of "calorie cycling," the secret weight-loss weapon that employs a simple week-by-week schedule of calorie and carbohydrate increases and decreases to trick the metabolism and keep the body in fat-burning mode.
 
Lauren provides a helpful meal guide and more than fifty delicious breakfast, lunch, dinner, and snack recipes, formulated around the "Magnificent 7"—meats, fish, vegetables, fruit, grains, nuts, and seeds. Complementing this new eating plan is a series of ten-minute workouts that use your own body for resistance. Drawing on the latest nutritional research and including photos of exercise routines, Body Fuel will change the way you think about food, transforming your life and your body.
Read more
Close