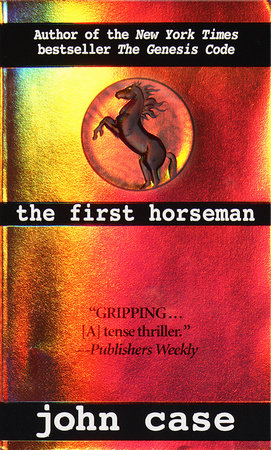 Read an Excerpt
The First Horseman
A Novel of Suspense
John Case
About the Book
A reporter travels to the Arctic Sea to recover a frozen—and lethal—virus in this knockout thriller of unrelenting suspense from the New York Times bestselling author of The Genesis Code
 
"[A] superchilling tale . . . mind-blowing . . . destroy[s] the reader's sleep"—Kirkus Reviews
 
In the Book of Revelations, the Four Horsemen herald the arrival of the Apocalypse. When the First Horseman thunders forth, pestilence will spread throughout the land.
For the First Horseman is Plague. . . .
 
On the Norwegian sea, an icebreaker forges its way through frozen waters to a remote island in the Arctic, carrying a scientific team that hopes to unearth the bodies of long-dead miners. Washington Post reporter Frank Daly has the story of a lifetime. But his plan to join the scientists on their historic mission is ruined by a ferocious storm. When he meets up with the ship upon its return to port in Norway, it is clear that something has gone terribly wrong.
 
Fear haunts the faces of the crew. No one will talk. And someone wants Daly to stop asking questions. But the more he uncovers, the more dangerous the stakes become. Until at last he comes face-to-face with a shocking secret, a secret that pitches him into a harrowing race to prevent nothing less than . . . apocalypse.
Read more
Close