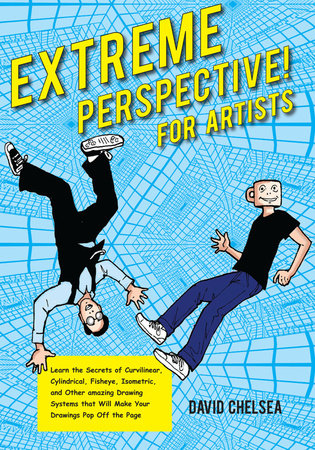 Extreme Perspective! For Artists
Learn the Secrets of Curvilinear, Cylindrical, Fisheye, Isometric, and Other Amazing Drawing Systems that Will Make Your Drawings Pop Off the Page
David Chelsea
About the Book
In this sequel to the classic bestseller Perspective! For the Comic Book Artist, David Chelsea takes perspective to a whole other level—by exploring the most dramatic viewpoints employed by today's artists. Many of these techniques have been carefully guarded secrets for centuries. But David, and his hollow-headed friend, Mugg, make them accessible to a new generation of artists, cartoonists, illustrators, and animators. In Extreme Perspective! For Artists, you'll learn how to
 
•         Render complicated multi-sided objects in perfect perspective
•         Create accurate shadows and reflections from your own imagination
•         Master the most difficult kinds of curvilinear perspective systems
•         Draw eye-popping images in fisheye perspective
•         Use your computer to create elaborate scenes quicker and more easily
•         … And much, much more!
Read more
Close