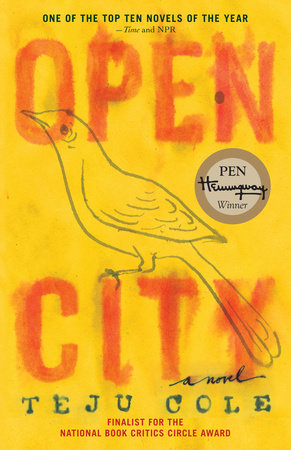 Open City
A Novel
Teju Cole
About the Book
"The past, if there is such a thing, is mostly empty space, great expanses of nothing, in which significant persons and events float. Nigeria was like that for me: mostly forgotten, except for those few things that I remembered with outsize intensity."
 
Along the streets of Manhattan, a young Nigerian doctor doing his residency wanders aimlessly. The walks meet a need for Julius: they are a release from the tightly regulated mental environment of work, and they give him the opportunity to process his relationships, his recent breakup with his girlfriend, his present, his past. Though he is navigating the busy parts of town, the impression of countless faces does nothing to assuage his feelings of isolation.

But it is not only a physical landscape he covers; Julius crisscrosses social territory as well, encountering people from different cultures and classes who will provide insight on his journey—which takes him to Brussels, to the Nigeria of his youth, and into the most unrecognizable facets of his own soul.

A haunting novel about national identity, race, liberty, loss, dislocation, and surrender, Teju Cole's Open City seethes with intelligence. Written in a clear, rhythmic voice that lingers, this book is a mature, profound work by an important new author who has much to say about our country and our world.
Read more
Close