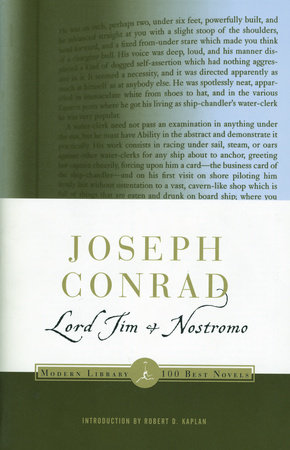 Read an Excerpt
Lord Jim and Nostromo
Joseph Conrad
About the Book
Selected by the Modern Library as two of the 100 best novels of all time

Nostromo

Originally published in 1904, Nostromo is considered by many to be Conrad's supreme achievement. Set in the imaginary South American republic of Costaguana, the novel reveals the effects of unbridled greed and imperialist interests on many different lives. Although each character's potential for good is ultimately corrupted, Nostromo underscores Conrad's belief in fidelity, moral discipline, and the need for human communion. The author himself described the book as 'an intense creative effort on what I suppose will remain my largest canvas.'

'Conrad endeavored to create a great, massive, multiphase symbol that would render his total vision of the world, his sense of individual destiny, his sense of man's place in nature, his sense of history and society,' observed Robert Penn Warren. 'Nostromo is the most strikingly modern of Conrad's novels,' said V. S. Pritchett. 'It is pervaded by a profound, even morbid sense of insecurity which is the very spirit of our age.'

This volume is the companion to the acclaimed multipart series aired on Masterpiece Theatre.

Lord Jim

Lord Jim is a classic story of one man's tragic failure and eventual redemption, told under the circumstances of high adventure at the margins of the known world which made Conrad's work so immediately popular. But it is also the book in which its author, through a brilliant adaptation of his stylistic apparatus to his obsessive moral, psychological and political concerns, laid the groundwork for the modern novel as we know it.
Read more
Close