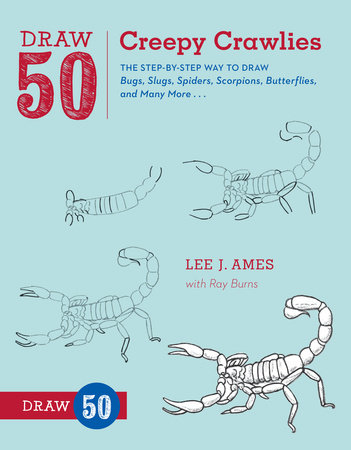 Read an Excerpt
Draw 50 Creepy Crawlies
The Step-by-Step Way to Draw Bugs, Slugs, Spiders, Scorpions, Butterflies, and Many More...
Lee J. Ames and Ray Burns
About the Book
Draw 50 Creepy Crawlies teaches aspiring artists how to draw with ease by following simple, step-by-step instructions. Celebrated author Lee J. Ames shows you how to draw a swarm of flying and crawling creatures. Here, you'll find dozens of insects and spiders, such as the housefly, firefly, black widow, ladybug, caterpillar, butterfly, and others. There are even snails, fleas, and centipedes! Ames's illustration style and renowned drawing method has made him a leader in the step-by-step drawing manual, and the 31 books in his Draw 50 series have sold more than three million copies. Ames's instruction allows seasoned artists to refine their technique and guides amateurs to develop their own artistic abilities. Even the youngest artists can make these bugs look great. It's easy to learn all about these peculiar creatures when it's done the Draw 50 way.
Read more
Close