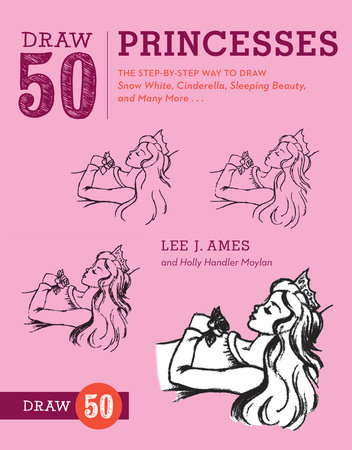 Read an Excerpt
Draw 50 Princesses
The Step-by-Step Way to Draw Snow White, Cinderella, Sleeping Beauty, and Many More . . .
Lee J. Ames and Holly Handler Moylan
About the Book
Draw 50 Princesses teaches aspiring artists how to draw with ease by following simple, step-by-step instructions. Acclaimed author Lee J. Ames shows us how to draw an enchanting variety of beautiful princesses, including beloved favorites from fairy tales like Cinderella, Sleeping Beauty, and Snow White as well as princesses from around the world. In these pages you'll also find a castle, a throne, Prince Charming, and much more.
Lee J. Ames's drawing method has proven successful for children and adults alike over the past thirty years. The twenty-nine books in the Draw 50 series have sold more than 3 million copies and have shown everyone from amateurs to experts how to draw everything from animals to airplanes.
Even the youngest artists can make these elegant ladies look great. It's easy to draw princesses when you do it the Draw 50 way.
Read more
Close