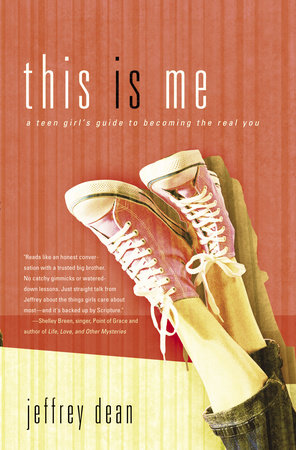 Read an Excerpt
This Is Me
A Teen Girl's Guide to Becoming the Real You
Jeffrey Dean
About the Book
You want to show the world the real you. But sometimes you're not sure who the real you really is. (Here's help.)

Being a teen girl isn't easy. The pressures, the frustrations, the fears. Some days you just want to disappear. But a voice inside keeps whispering that you were created for an amazing life. And you want it. You long to become the kind of beautiful young woman who can confidently tell the world…

"This is me!"

So where do you start? Maybe with a helpful handbook to the truth about you.

This Is Me: A Teen Girl's Guide to Becoming the Real You offers practical "getting there" advice for teens who want to experience everything God has for their future. Teen authority and counselor Jeffrey Dean has spoken–and listened–to thousands of students just like you. In his new book, he helps you figure out where you are now, then shows you from the Bible how to get where you want to go. This Is Me is packed with street-level reality, surprising humor, hard questions and life-tested answers.

For your personal journey from here to extraordinary, This Is Me is the travel companion every girl needs.

Check out the companion book: Watch This: A getting-there guide to manhood for teen boys.

Read more
Close