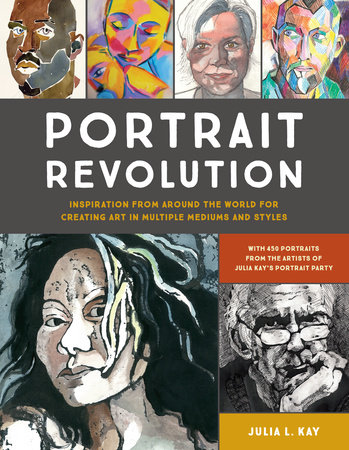 Read an Excerpt
Portrait Revolution
Inspiration from Around the World For Creating Art in Multiple Mediums and Styles
Julia L. Kay
About the Book
Based on the popular international collaborative art project, Julia Kay's Portrait Party, this book features hundreds of portraits in multiple mediums and styles teamed with tips and insights on the artistic process.

The human face is one of the most important subjects for artists, no matter their chosen medium. Pulling from 50,000 works of portraiture created by the artists of the international online collaborative project Julia Kay's Portrait Party, Portrait Revolution presents a new look at this topic—one that doesn't limit itself to one medium, one style, one technique, or one artist. By presenting portraits in pencil, pen, charcoal, oils, watercolors, acrylics, pastels, mixed media, digital media, collage, and more, Julia Kay and co. demonstrate the limitless possibilities available to aspiring artists or even to professional artists who are looking to expand creatively.

Along with works in almost every conceivable medium, Portrait Revolution shines a spotlight on different portrait-making techniques and styles (featuring everything from realism to abstraction). With tips, insights, and recommendations from accomplished portrait artists from around the globe, this all-in-one inspiration resource provides everything you'll need to kick-start your own portrait-making adventure.
Read more
Close