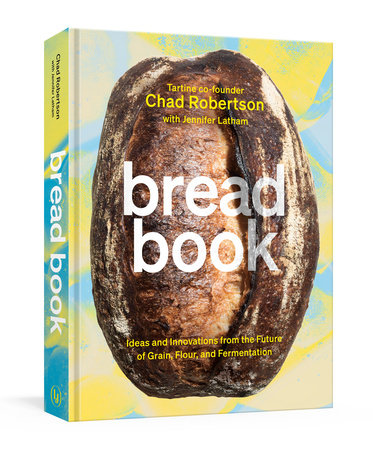 Read an Excerpt
Bread Book
Ideas and Innovations from the Future of Grain, Flour, and Fermentation [A Cookbook]
Chad Robertson with Jennifer Latham
About the Book
Visionary baker Chad Robertson unveils what's next in bread, drawing on a decade of innovation in grain farming, flour milling, and fermentation with all-new ground-breaking formulas and techniques for making his most nutrient-rich and sublime loaves, rolls, and more—plus recipes for nourishing meals that showcase them.

"The most rewarding thing about making bread is that the process of learning never ends. Every day is a new study . . . the possibilities are infinite."—from the Introduction

More than a decade ago, Chad Robertson's country levain recipe taught a generation of bread bakers to replicate the creamy crumb, crackly crust, and unparalleled flavor of his world-famous Tartine bread. His was the recipe that launched hundreds of thousands of sourdough starters and attracted a stream of understudies to Tartine from across the globe.

Now, in Bread Book, Robertson and Tartine's director of bread, Jennifer Latham, explain how high-quality, sustainable, locally sourced grain and flours respond to hydration and fermentation to make great bread even better. Experienced bakers and novices will find Robertson's and Latham's primers on grain, flour, sourdough starter, leaven, discard starter, and factoring dough formulas refreshingly easy to understand and use.

With sixteen brilliant formulas for naturally leavened doughs—including country bread (now reengineered), rustic baguettes, flatbreads, rolls, pizza, and vegan and gluten-free loaves, plus tortillas, crackers, and fermented pasta made with discarded sourdough starter—Bread Book is the wild-yeast baker 's flight plan for a voyage into the future of exceptional bread.
Read more
Close