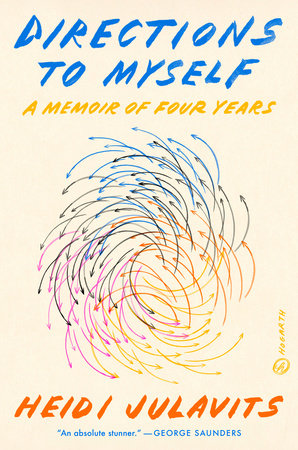 Read an Excerpt
Directions to Myself
A Memoir of Four Years
Heidi Julavits
About the Book
New York Times Book Review Editors' Choice • A sharply observed memoir of motherhood and the self, and a love letter to Maine, by a writer Eula Biss calls "witty, sly, critical, inventive" and whose mind Leslie Jamison calls "electric."

"An absolute stunner: frank, funny, self-aware, constantly surprising."—George Saunders

That night, in his bed, I spread my son's palm wide and tried to read it. If the hand was a map that led to a future person, was there any changing the destination?

One summer Heidi Julavits sees her son silhouetted by the sun and notices he is at the threshold of what she calls "the end times of childhood." When did this happen, she asks herself. Who is my son becoming—and what qualifies me to be his guide?

The next four years feel like uncharted waters. Rape allegations rock the university campus where Julavits teaches, unleashing questions of justice and accountability, as well as education and prevention. She begins to wonder how to prepare her son to be the best possible citizen of the world he's about to enter. And what she must learn about herself to responsibly steer him.

Looking back to her childhood in Maine, where she and her family often navigated the tricky coastline in a small boat, relying on a decades-old nautical guide, Julavits takes us on an intellectual navigation of the self. Throughout, she intertwines her internal analysis with a wide-ranging exploration of what it means to raise a child in a time full of contradictions and moral complexity. Using the past and present as points of orientation, Directions to Myself examines the messy minutiae of family life alongside knottier questions of politics and gender. Through it all, Julavits discovers the beauty and the peril of telling stories as a way to locate ourselves and help others find us.

Intimate, rigorous, and refreshingly unsentimental, Directions to Myself cements Julavits's reputation as one of the most shrewdly innovative nonfiction writers at work today.
Read more
Close