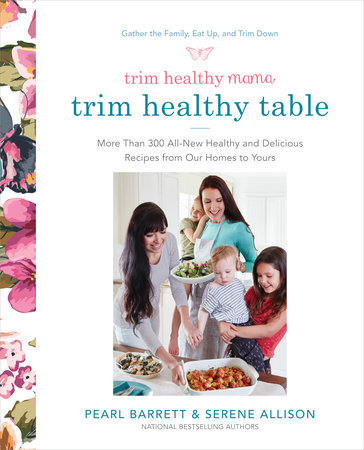 Read an Excerpt
Trim Healthy Mama's Trim Healthy Table
More Than 300 All-New Healthy and Delicious Recipes from Our Homes to Yours : A Cookbook
Pearl Barrett and Serene Allison
About the Book
From the bestselling authors of the Trim Healthy Mama Plan and Trim Healthy Mama Cookbook, a new cookbook for the whole family!

The Trim Healthy Mamas have helped hundreds of thousands of women lose weight and live healthier lives with their bestselling cookbook and eating plan and now they are ready to help the entire family! After experiencing incredible life transformations of their own, readers want to be able to help their families feel better and trim down, too. Trim Healthy Table is just the answer. It bursts with over 300 family friendly, delicious and trimming recipes, along with practical advice on how to healthfully nourish your family without going insane and chaining yourself to the kitchen.

Bestselling authors and sisters Serene Allison and Pearl Barrett have 18 children between them and their two families have been thriving on the Trim Healthy Mama plan for years.  Trim Healthy Table contains all their best tips, tricks and encouragement for families, whether large or small.  Serene and Pearl shamelessly share cunning ways to get picky eaters gobbling down veggies and other healthy foods they usually detest. You will learn how to painlessly use whole, unprocessed foods, including blood-sugar friendly carbs, fats, proteins, fruits and vegetables to create meals even the fussiest kids (and husbands) will love.  You'll also learn how one basic meal can make a whole family happy even with different nutritional needs. The quick and easy recipes include lots of one-pot dishes such as, skillet meals, slow cooker meals, electric pressure cooker meals, casserole and soups. With the recipes you can wake up to hearty breakfasts, prepare bars for on-the-go or try a creamy, quick-to-make smoothie, even Indulge yourself with the many trimming desserts…cake for breakfast is celebrated!  And, if you're simply looking for single serve 5 – 10 minute meals, the Hangry Meal chapter has you covered.

In addition to the hundreds of recipes, included is a Simple Start Guide to the Trim Healthy Plan which concisely explains how you can trim down by getting your blood sugar under control and how to, ever so gently, help other members in your family who may be struggling with weight issues. So, gather your family, bring them to the Trim Healthy Table… eat up… and trim down!
Read more
Close