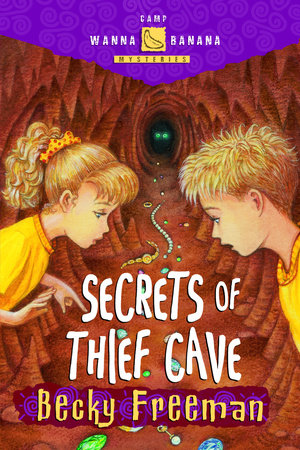 Secrets of Thief Cave
Becky Freeman
About the Book
When you live at the best Christian youth camp around–Camp Wanna Banana–
life is filled with adventure, excitement–and fun! Join ten-year-old twins
Jake and Joy; Joy's pet spider monkey, Munch-Munch;
and their "twibling" friends, Marco and Maria, as they solve a whole series of
mysteries in and around Camp Wanna Banana.

Who Is Stealing All the Jewelry around
Camp Wanna Banana?

When Joy's antique gold locket disappears, she's sure her crazy brother has done something silly with it. So Jake–a proud member of the Four Amigos Detective Agency–sets out to catch the real jewel thief and clear his name!

But Jake has his work cut out for him. Pretty soon, lots of things are disappearing around Camp Wanna Banana. And that's just the beginning of their troubles, because it looks like money problems just might force Jake and Joy's father to close their beloved camp for good.

Can Jake prove his innocence? Can he help find a way to save Camp Wanna Banana? Can God provide a way out of all this mess? The answer lies in the Secrets of Thief Cave!

INCLUDES FUN ACTIVITY PAGES FOR YOUR OWN ADVENTURES!
Read more
Close