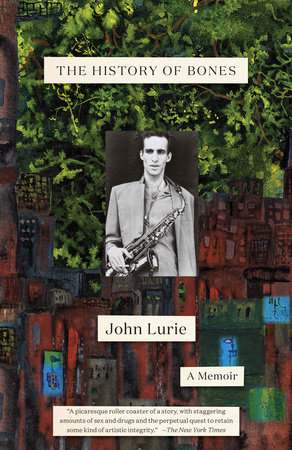 Read an Excerpt
The History of Bones
A Memoir
John Lurie
Paperback
Hardcover
Ebook
Audiobook Download
About the Book
The quintessential depiction of 1980s New York and the downtown scene from the artist, actor, musician, and composer John Lurie

"A picaresque roller coaster of a story, with staggering amounts of sex and drugs and the perpetual quest to retain some kind of artistic integrity."—The New York Times

In the tornado that was downtown New York in the 1980s, John Lurie stood at the vortex. After founding the band The Lounge Lizards with his brother, Evan, in 1979, Lurie quickly became a centrifugal figure in the world of outsider artists, cutting-edge filmmakers, and cultural rebels. Now Lurie vibrantly brings to life the whole wash of 1980s New York as he developed his artistic soul over the course of the decade and came into orbit with all the prominent artists of that time and place, including Andy Warhol, Debbie Harry, Boris Policeband, and, especially, Jean-Michel Basquiat, the enigmatic prodigy who spent a year sleeping on the floor of Lurie's East Third Street apartment. 

It may feel like Disney World now, but in The History of Bones, the East Village, through Lurie's clear-eyed reminiscence, comes to teeming, gritty life. The book is full of grime and frank humor—Lurie holds nothing back in this journey to one of the most significant moments in our cultural history, one whose reverberations are still strongly felt today. 

History may repeat itself, but the way downtown New York happened in the 1980s will never happen again. Luckily, through this beautiful memoir, we all have a front-row seat.
Read more
Close