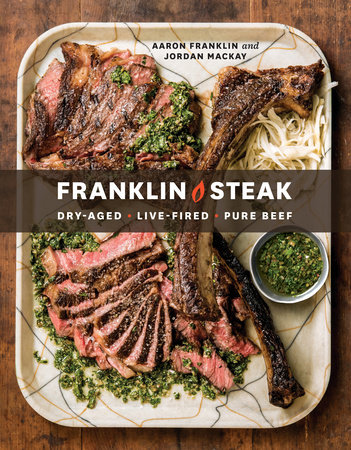 Read an Excerpt
Franklin Steak
Dry-Aged. Live-Fired. Pure Beef. [A Cookbook]
Aaron Franklin and Jordan Mackay
About the Book
The be-all, end-all guide to cooking the perfect steak—from buying top-notch beef, seasoning to perfection, and finding or building the ideal cooking vessel—from the James Beard Award–winning team behind the New York Times bestseller Franklin Barbecue. 
 
"This book will have you salivating by the end of the introduction."—Nick Offerman
 
Aaron Franklin may be the reigning king of brisket, but in his off-time, what he really loves to cook and eat at home is steak. And it's no surprise that his steak is perfect, every time—he is a fire whisperer, after all, and as good at grilling beef as he is at smoking it. 
 
In Franklin Steak, Aaron and coauthor Jordan Mackay go deeper into the art and science of cooking steak than anyone has gone before. Want the real story behind grass-fed cattle? Or to talk confidently with your butcher about cuts and marbling? Interested in setting up your own dry-aging fridge at home? Want to know which grill Aaron swears by? Looking for some tricks on building an amazing all-wood fire? Curious about which steak cuts work well in a pan indoors? Franklin Steak has you covered.
 
For any meat lover, backyard grill master, or fan of Franklin's fun yet authoritative approach, this book is a must-have.
Read more
Close