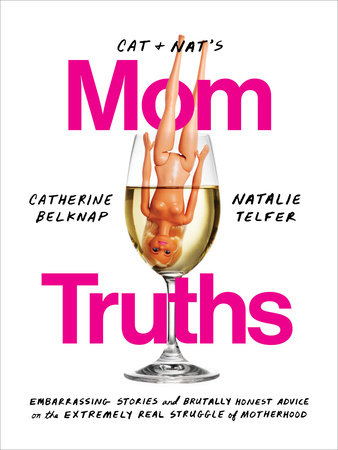 Read an Excerpt
Cat and Nat's Mom Truths
Embarrassing Stories and Brutally Honest Advice on the Extremely Real Struggle of Motherhood
Catherine Belknap and Natalie Telfer
Paperback
Ebook
Audiobook Download
March 12, 2019 | ISBN 9781984846419
About the Book
THE NATIONAL BESTSELLER

Hilarious best friends Cat and Nat created a massive online community of moms by sharing their ultra-real and just a bit R-rated dispatches from the mom trenches. From what not to eat a few days after giving birth (chicken wings) to the most effective ways to dodge post-partum sex, Cat & Nat's Mom Truths shares everything no one will tell you about having kids.

Mixing memoir, humor, and advice, Cat and Nat tell never-before-told stories about the stress, guilt, joy, and laundry (oh the laundry!) of being a mom in their first book. With seven kids between them and millions of fans on social media, they get real about the parts of parenting that somehow don't make the Instagram feed. Sharing their outrageous humor, fearless myth-busting, and genuine comfort on every page, they walk you from pregnancy to the toddler years and beyond. And they dole out ridiculously honest advice, like what you think you need at the hospital when you have your first baby (lip gloss) versus what you actually need (hemorrhoid pillow), and how worried you should really be about germs (less than you are). Fearless crusaders against the perfection myth and all the gluten-free, sugar-free baking it entails, Cat and Nat assure you that you're already doing a great job, making this an essential companion for moms everywhere.
Read more
Close