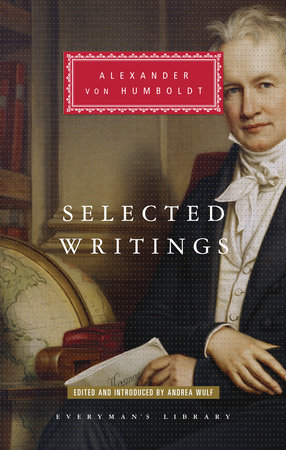 Read an Excerpt
Selected Writings of Alexander von Humboldt
Edited and Introduced by Andrea Wulf
Alexander von Humboldt; Edited and Introduced by Andrea Wulf
About the Book
A new hardcover selection of the best writings of the visionary German naturalist whose ideas changed the way we see the natural world. Selected and introduced by Andrea Wulf.

Alexander von Humboldt (1769–1859) was an intrepid explorer and the most famous scientist of his age. His life was packed with adventure and discovery, whether he was climbing volcanoes in the Andes, racing through anthrax-infected Siberia, or publishing groundbreaking bestsellers. Ahead of his time, he recognized nature as an interdependent whole and he saw before anyone else that humankind was on a path to destroy it. His visits to the Americas led him to argue that the indigenous peoples possessed ancient cultures with sophisticated languages, architecture, and art, and his expedition to Cuba prompted him to denounce slavery as "the greatest evil ever to have afflicted humanity."

To Humboldt, the melody of his prose was as important as its empirical content, and this selection from his most famous works—including Cosmos, Views of Nature, and Views of the Cordilleras and Monuments of the Indigenous Peoples of the Americas, among others—allows us the pleasure of reading his own accounts of his daring explorations. Humboldt's writings profoundly influenced naturalists and poets including Darwin, Thoreau, Muir, Goethe, Wordsworth, and Whitman. The Selected Writings is not only a tribute to Humboldt's important role in environmental history and science, but also to his ability to fashion powerfully poetic narratives out of scientific observations.
Read more
Close