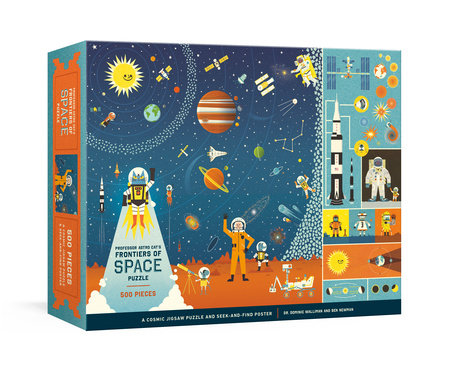 Professor Astro Cat's Frontiers of Space 500-Piece Puzzle
Cosmic Jigsaw Puzzle and Seek-and-Find Poster : Jigsaw Puzzles for Kids
Dr. Dominic Walliman and Ben Newman
About the Book
This delightful jigsaw puzzle features the midcentury art style from the cult hit Professor Astro Cat's Frontiers of Space.

• A fun activity for kids (and adults!) to discover the solar system and outer space while engaging important skills such as critical thinking, problem solving, creativity, and hand-eye coordination.
• The unique and colorful design will delight fans of Professor Astro Cat and the series' beloved art style.
• Sturdy puzzle pieces fit perfectly together, are virtually dust-free with minimal glare, and are designed for easy handling.
• Included a matching poster features a search-and-find activity with science vocabulary and proper nouns, such as comets, satellites, the International Space Station, and NASA's Curiosity Rover, offering another fun way for kids to learn about space.
Read more
Close