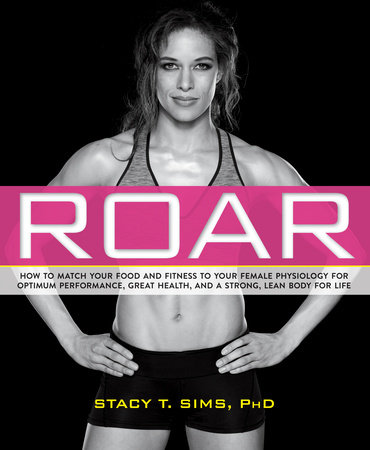 Read an Excerpt
ROAR, Revised Edition
Match Your Food and Fitness to Your Unique Female Physiology for Optimum Performance, Great Health, and a Strong Body for Life
Stacy T. Sims, PhD, with Selene Yeager
Paperback
Ebook
Audiobook Download
January 9, 2024 | ISBN 9780593860663
About the Book
The groundbreaking book that revolutionized exercise nutrition and performance for female athletes, now freshly updated
Women are not small men. Stop eating and training like one.
In
ROAR
, exercise physiologist and nutrition scientist Stacy T. Sims, PhD, teaches you everything you need to know to adapt your nutrition, hydration, and training to work
with
your unique female physiology, rather than against it.
By understanding your physiology, you'll know how best to adapt your lifestyle and build routines to maximize your performance, on and off the sports field. You'll discover expert guidance on building a rock-solid foundation for fitness and everyday life with tips for determining your high-performance body composition, gaining lean muscle, and nailing your nutrition. Because a women's physiology changes over time, you'll also find full chapters devoted to pregnancy and menopause.
This revised edition includes a wealth of new research developments, expanded recommendations based on those findings, and updates to reflect the changing landscape of women's sports, including:
An updated action plan for peak performance across all phases of your menstrual cycle, as there is never a bad day to perform at your best
A fresh understanding about the impact of hormonal contraception on training
A look into why you need more protein than the average woman and how these needs change across your lifespan
The reasons why sleep is your most powerful recovery tool and how to manage disruptions to your internal clock
A deep dive into saunas, cold plunges, and other training and recovery techniques as they apply to female physiology
Insights into biohacking and what works (and doesn't) for active women
No matter what your activity is—Olympic lifting, general fitness, endurance, or field sports—this book will empower you with the personal insight and knowledge you need to be in the healthiest, fittest, strongest shape of your life.
Read more
Close