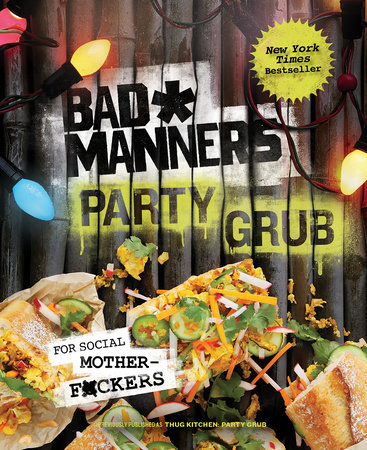 Read an Excerpt
Bad Manners: Party Grub
For Social Motherf*ckers: A Vegan Cookbook
Bad Manners
About the Book
From the duo behind the New York Times bestseller Bad Manners: The Official Cookbook come healthy crowd-pleasing recipes to entertain with attitude (previously published as Thug Kitchen Party Grub: For Social Motherf*ckers).

Bad Manners: Party Grub answers the question that they have heard most from their fans: How the hell are you supposed to eat healthy when you hang around with a bunch of assholes who couldn't care less about what they stuff in their face? The answer: You make a bomb-ass plant-based dish from Bad Manners. Featuring over 100 recipes for every occasion, Party Grub combines exciting, healthy food with easy-to-follow directions and damn entertaining commentary.

From appetizers like Deviled Chickpea Bites to main events like Mexican Lasagna, Party Grub is here to make sure you're equipped with dishes to bring the flavor without a side of fat, calories, and guilt. Also included are cocktail recipes, because sometimes these parties need a pick-me-up of the liquid variety.
Read more
Close