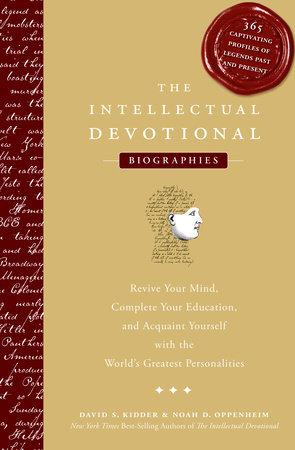 Read an Excerpt
The Intellectual Devotional: Biographies
Revive Your Mind, Complete Your Education, and Acquaint Yourself with the World's Greatest Personalities
David S. Kidder and Noah D. Oppenheim
About the Book
The fifth installment of the bestselling Intellectual Devotional series features 365 captivating entries about the most celebrated personalities in history.

Like its compulsively readable predecessors, The Intellectual Devotional Biographies is organized into seven categories, one for each day of the week. With their trademark wit and style, authors David Kidder and Noah Oppenheim offer an array of fascinating facts about major figures from Atilla the Hun to Desmond Tutu.

In this daily devotional, you will learn about:
• authors and artists, from Homer and Ovid to Oscar Wilde and Virginia Woolf
• leaders, such as Queen Elizabeth I, Abraham Lincoln, Susan B. Anthony, and Napoleon Bonaparte
• innovators, from Johannes Gutenberg to Isaac Newton to Werner Heisenberg
• philosophers, including Socrates, Epicurus, Friedrich Nietzsche, and Jean-Paul Sartre
• rebels and reformers, from Joan of Arc and Spartacus to Galileo and Che Guevara
• preachers and prophets, including Lao-tzu, John the Baptist, Martin Luther, and Gandhi
• villains, such as Benedict Arnold, Genghis Khan, Ivan the Terrible, and Jack the Ripper

This volume shares the personal histories, accomplishments, and troubles of 365 people who have left an indelible mark on the world.
Read more
Close